Arena Team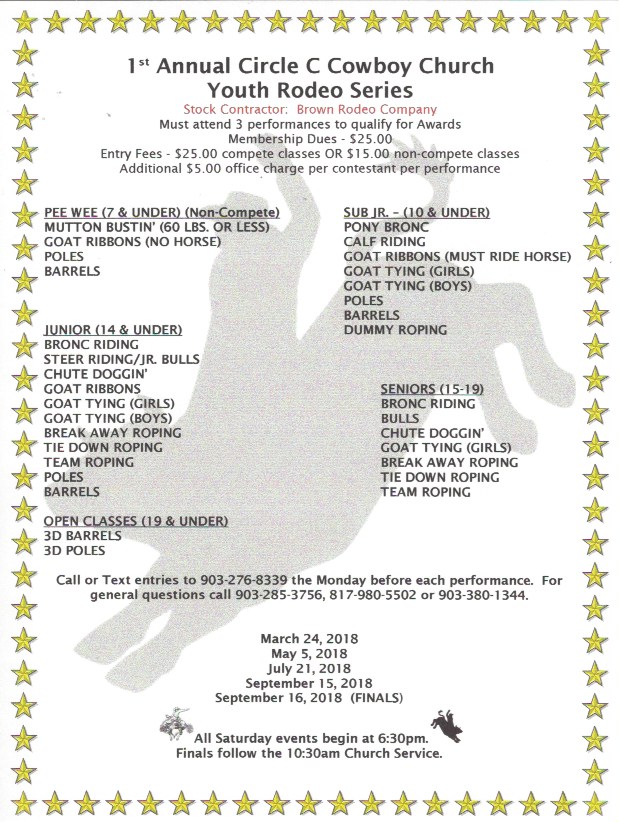 You can still sign up with a late fee of $10.  Text all entries to 903-276-8339.  The order of events is as follows:

Mutton Bustin'
Calf Ridin
Jr. Bulls
Sr. Bulls
Jr. Pony Broncs
Sr. Chute Doggin'
Peewee Goat Ribbon
10U Goat Ribbon
14U Goat Ribbon
10U Goat Tying Girls
10U Goat Tying Boys
14U Goat Tying Girls
14U Goat Tying Boys
10U Dummy Roping
14U Break Away
Pole Exhibitions
Peewee Poles
10U Poles
14U Poles
3D Poles
Barrel Exhibitions
Peewee Barrels
10U Barrels
14U Barrels
3D Barrels
Other events are offered but due to lack of entries we did not add in our order of event.  Dress code required.  Please arrive one hour early to pay memberships, entry fees and sign contestants in.  PARENTS: You MUST work at least 1 event at 3 separate performances in order for your child to receive end of the year awards.